Translate: Croatian
A CallShop is a place where customers can make international calls at lower charges than the local telephone companies. CallShop is a perfect solution for tourist complexes and resorts, camps, travel agencies, Internet coffee, marinas and other locations visited by tourists.
If you have a business space on the frequent location, you have the opportunity to start with small investment a business like Callshop. The only thing that you need is an ATA (analog telephone adapter) that connects two analog phones and a computer with a printer, used for printing bills. As a Call Shop user you have the possibility to make and set your own price list in the software. All the details about the duration and charging of the calls will be performed through a licensed program,  also part of the VoIPBON service.
CallShop service is ideal for internet cafés. They have the oppurtinity to enrich their offer with the Callshop service, connecting the existing computers with an USB phone, so the customers beside  "surfing" the Internet, can have cheaper phone calls. In this way, the owners of internet cafe's can generate additional profit and expand its service simultaneously.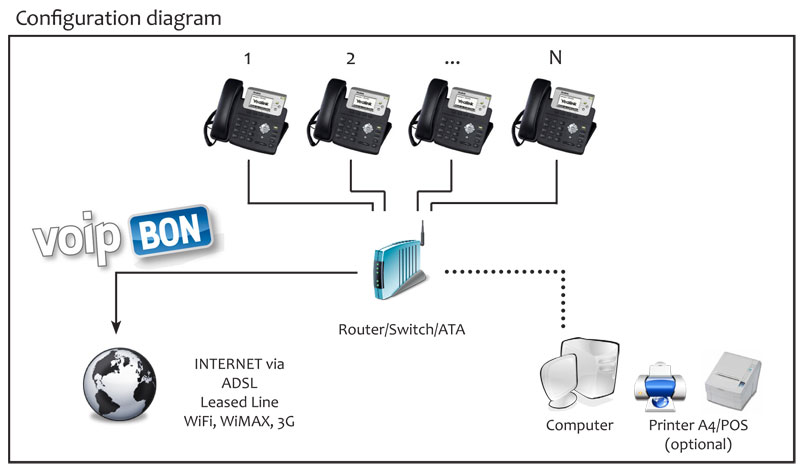 CallShop properties:
Access to all functions from any computer via web browser – no need for any installation
Displaying the call, the lines, the amount and duration of calls
Generation of a detailed list of calls for each telephone connection
Possibility to set up buying and selling prices
Saving up to 90% in international calls because the calls are not made via national operators - tariffs
Fast and simple international calls to any destination
High level of security
CallShop advantages:
You have a unique opportunity to offer visitors/guest a service that is cheaper than the public voice services, while at the same time you can make extra profit on telephone conversations
You can easily set the price for the end user by yourself
High quality calls
An investment that pay off itself depending on traffic turnover
Simple and flexible installation and use
There is no maintaining of the service because we are trying to provide a complete and efficient service during the initial installation and configuration
Multilingual interface – every user can choose which language to use
Business model with different currencies- CallShop preferences can be set in a currency you want to use ( e.g. if the user is from Bosnia, the preferences can be set to charge rates in Convertible Marks )
bility to block/unblock the phone from your interface
Charge rates can be added via internet
Indicates reasons of unsuccessful calls
Automatic billing, printing on A4 and POS printer
Possibility to create R1 bills for business users
How to use the CallShop service?
Open a VoIPBON account and activate the call shop
Connect the equipment to the internet and phones

Set your own charge rates in the program
Start with CallShop billing
The reasons why tourists are looking for CallShop?
Cheaper roaming service up to 90%
Callshop is up to 70% cheaper in comparison to national provider public booth
Local calls are 50% cheaper
If you want to start using CallShop, click on a link sip.voipbon.com for a free registration, than click NEW USER and fill out the form.
We have set up several CallShops throughout the World  where our customers make significant return and profit.
Your VoIP Callshop is ready!
In case you are not able to connect your equipment, we can do it for you, if you request so.
For more information contact us at info@voipbon.com
Contact telephone number (office hours Mon-Fri 8:00-16:00): +385 (0) 1 8000 023
If you want to start using CallShop, click on a link sip.voipbon.com for a free registration, than click NEW USER and fill out the form.
Please provide the following information in your email:
Contact person:
Company name:
E-mail:
Telephone:
Number of planned call shop locations and phones: